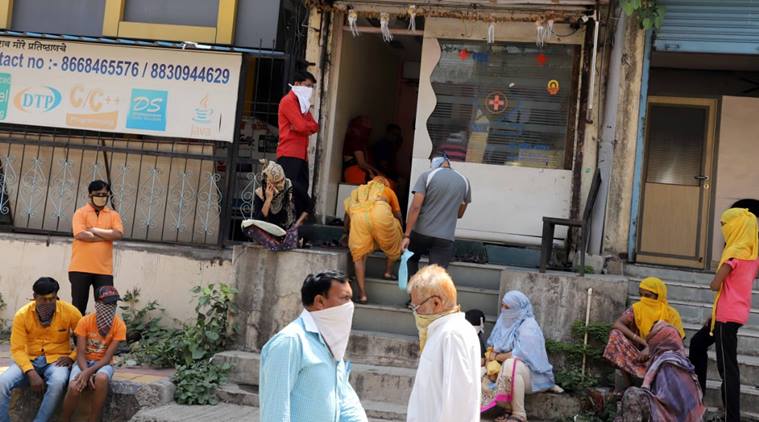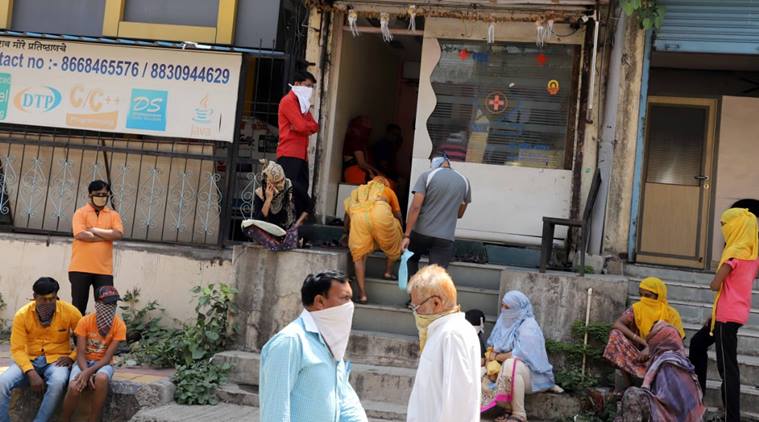 Patients maintaining social distance outside a private clinic in Bibvewadi in Pune. (Express Photo: Pavan Khengre)
The Delhi government, a day before the lockdown is set to be eased in the country, announced the city will not lift any prohibitions as the number of coronavirus cases was on the rise. Chief Minister Arvind Kejriwal said the decision will be reviewed after a week. He repeatedly referred to the situation in European countries such as Italy, Spain and France in making a case for prohibitory measures, which have been in force in the city for nearly a month now.
Punjab also ruled out out any relaxation in the curfew in the state, except as needed to ensure free procurement of wheat, till May 3, when the situation will again be reviewed.
Punjab Chief Minister Captain Amarinder Singh ordered strict enforcement of the curfew in all districts by the DCs, with no relaxation or concessions even during the Ramzan period beginning this week.
Delhi Police at check-post to ensure people are following lockdown.
In Maharashtra, Pune and Thane were also declared containment zones, with boundaries sealed off.
On a linkedln post on Sunday, Prime Minister Narendra Modi said the coronavirus outbreak had significantly changed the contours of professional life and these days, home was the new office and internet the new meeting room.
"I have also been adapting to these changes. Most meetings, be it with ministerial colleagues, officials and world leaders, are now via video conferencing," Modi said.
Chandigarh: Health department workers taking a door to door survey of residents after a rise in Covid-19 cases in the city, on Sunday. (Express Photo by Kamleshwar Singh)
The need of the hour is to think of business and lifestyle models that are easily adaptable, the PM said. "Doing so, would mean that even in a time of crisis, our offices, businesses and commerce could get moving faster, ensuring loss of life does not occur," he said.
Today, the world is in pursuit of new business models, PM Modi said, adding that India, a youthful nation known for its innovative zeal, can take the lead in providing a new work culture.
Read more news on coronavirus (COVID-19) in India, the world:
Explained: Guidelines for non-immigrant visa holders in the US amid COVID-19
Government offices to reopen with senior staff from April 20
In Mumbai, migrants lose hope, money: For how long, they ask
Govt wants to use PMJAY for free coronavirus testing in private labs, but 2 cr families missing from database
Don't miss these articles on Coronavirus from the Explained section:
-How coronavirus attacks, step by step
-Mask or no mask? Why the guidance has been shifting
-Besides a face cover, should I wear gloves when I go outdoors?
-How the Agra, Bhilwara and Pathanamthitta Covid-19 containment models differ