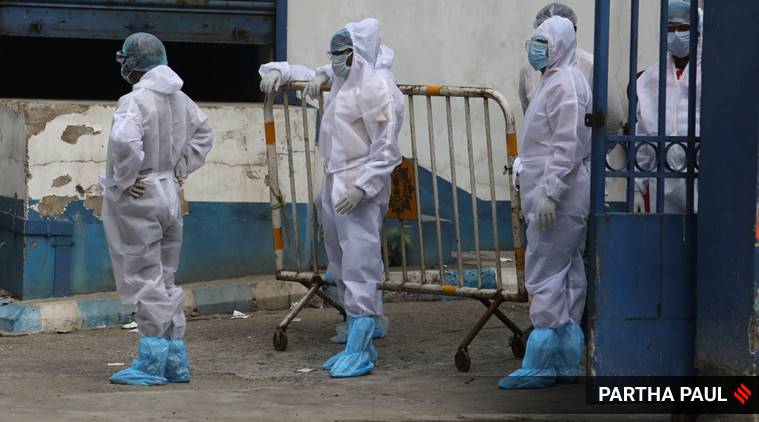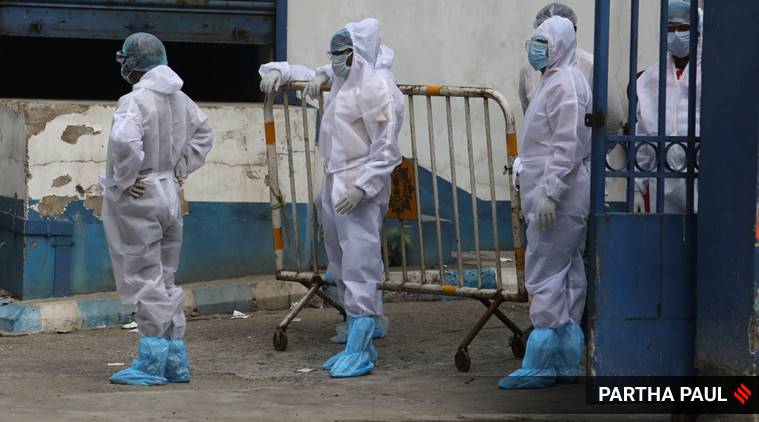 Coronavirus India uypdate: Municipal workers, police and hospital staff wait for covid casualties at M R Bangur Hospital in Kolkata. (Express photo by Partha Paul)
India Coronavirus Latest Updates: The death toll due to the coronavirus pandemic rose to 686 as total number of infections reached 21,700 on Thursday, including the 4,324 patients who have been treated and discharged so far. While Maharashtra, which has been worst-hit by the pandemic, has received a lot of attention for its rapidly rising number of infections, Gujarat has also added numbers at a faster rate to become the second state to report maximum cases. The positive cases in the Gujarat has more than tripled, from 766 on April 15 to 2,407 on Wednesday, April 22.
However, the spread of the disease in India has slowed down considerably as a result of the lockdown. It took eight days for India to travel from 10,000 cases to 20,000 cases.
Click to Follow Coronavirus India Live Updates
The government has said the recovery rate of India remains 19 per cent and that no new cases have been reported in 12 districts in the last 28 days. It also said that post lockdown, testing increased 24 times while number of new positive cases grew 16 times.
Meanwhile, Congress president Sonia Gandhi has targetted the government over its response to the coronavirus saying the Centre had "no clear idea" yet on how to manage the situation after the lockdown period ends on May 3 and that the shutdown of the present nature after May 3 would be even more devastating.
Here are the latest updates on the coronavirus pandemic from across the country today:
Recovery rate over 19%, no new cases in 12 districts in last 28 days
In its daily presser, the Union Health Ministry underlined that the recovery rate of India remains 19 per cent and that no new cases have been reported in 12 districts in the last 28 days. It also said no new cases have been reported in 78 districts in last 14 days.
The government also said that they have been able to cut virus transmission, minimise spread of COVID-19 in 30 days of lockdown. Post lockdown, testing increased 24 times while number of new positive cases grew 16 times.
The government said the increase in COVID-19 cases in India has been more or less linear not exponential. In the last month, number of dedicated COVID-19 hospitals rose by 3.5 times while isolation beds increased by 3.6 times.
Meanwhile, AIIMS director Dr Randeep Guleria said stigma over COVID-19 is resulting in increase in mortality and morbidity as patients are opting for treatment only when symptoms have worsened. Stating that it is important to the reach out to patients who are missing out on treatment because of the stigma and panic, Dr Guleria urged all to see patients as symbols of hope and victory.
Govt freezes Dearness Allowance at current rates till July 2021
Due to Covid-19, the government has decided to freeze the dearness allowance to central government employees and dearness relief to pensioners at current rates till July 2021. However, DA and DR at current rates will continue to be paid. In a notification, the Ministry of Finance states: "As and when the decision to release the future installment of DA and DR due from July 1, 2021 is taken by the Government, the rates of DA and DR as effective from January 1, 2020, July 1, 2020 and January 1, 2021 will be restored prospectively and will be subsumed in the cumulative revised rate effected from July 1, 2021."
The government is likely to save Rs. 37,530 crore in the Financial Year 2020-21 and 2021-22 on account of this decision, sources told The Indian Express. As state governments normally follow the Centre's orders on DA/DR, it is estimated that states could save Rs. 82,566 crore by implementing similar orders. Thus, the total anticipated saving of the Centre and states will be Rs. 1.20 lakh crore, which will be used to fight the Covid-19 battle and its fallout.
Ministry of Finance issues order to freeze additional instalment of DA for central govt employees and pensioners in view of #Covid_19india crisis. @IndianExpress pic.twitter.com/pCmBLHAqjd

— Liz Mathew (@MathewLiz) April 23, 2020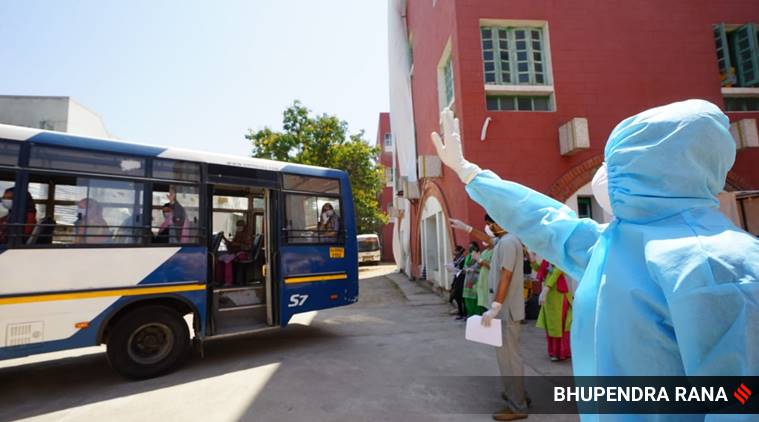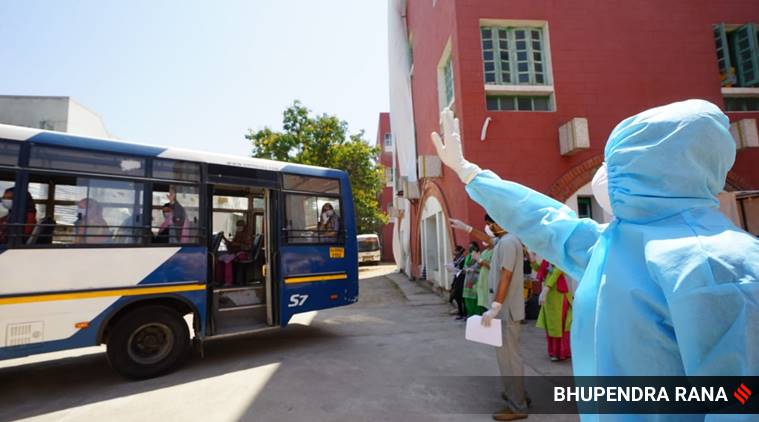 Vadodara's 45 patients recovered from Covid-19 get a farewell from the healthcare centre at Ajwa ITI institute. (Express Photo By Bhupendra Rana)
Centre acted 'miserly' on Congress' suggestions, says Sonia Gandhi
Addressing the Congress Working Committee — the highest decision-making body of the Congress party — via video conference, Gandhi said the party's suggestions offered to the government to fight Covid-19 had been acted upon "only partially" and "in a miserly way".
Since the last CWC meeting three weeks ago, Gandhi said the pandemic had "increased disturbingly" in spread and speed. "Since the lockdown commenced on March 23, I have, as you all know, written several times to the Prime Minister. I offered our constructive cooperation and also made a number of suggestions to alleviate the suffering of both rural and urban families. These suggestions had been formulated on the basis of feedback we have been receiving from different sources, including our Chief Ministers.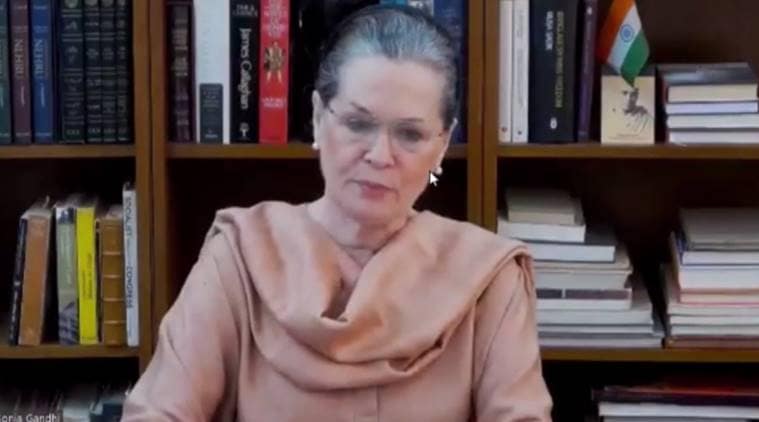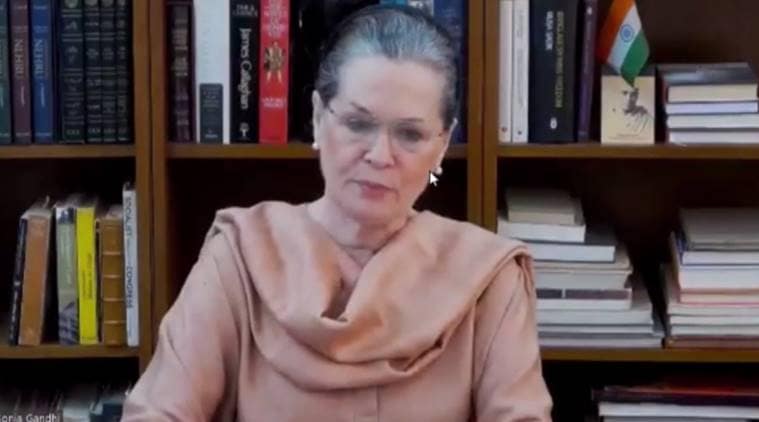 Congress president Sonia Gandhi. (File)
"Unfortunately, they have been acted upon only partially and in a miserly way. The compassion, large-heartedness and alacrity that should be forthcoming from the Central Government is conspicuous by its absence," she said.
India gave 5 million tablets to foreign countries: MEA
Ministry of External Affairs spokesperson Anurag Srivastava said India has given 5 million HCQ tablets to countries in the neighbourhood and the Indian Ocean region, Africa, Latin America, Central Asia, Eurasia and West Asia- North Africa regions. "We are also providing 1.32 million paracetamol tablets to our neighbouring and other partner countries," Srivastava said.
"We have given clearance to commercial consignments of around 285 million HCQ tablets to 40 countries. Commercial consignments of around 500 million paracetamol tablets for 60 countries have also been cleared," he added.
Former prime minister Manmohan Singh Thursday said co-operation between the Centre and States is essential in the fight against the coronavirus pandemic. "It is necessary to focus on a number of issues in this fight… it will very much depend upon the availability of resources," he said during the Congress Working Committee (CWC) meeting.
Two COVID-19 patients who were discharged from a hospital in Patan district of north Gujarat after they had tested negative, tested positive for a second time on April 22 after their mandatory 14-day quarantine period. Following this, district health authorities have readmitted them to Patan Civil Hospital in Dharpur as per treatment protocol. The two patients – a man aged 60 and a woman aged 55 – are natives of Sidhpur.
District Development Officer of Patan, D K Parekh said that a total of nine patients had recovered from COVID-19 at Patan Civil Hospital around a week back. After being discharged, all nine patients were shifted to a quarantine facility in Sidhpur. After the completion of their quarantine period, when their tests were conducted again before letting them return home, seven patients tested negative and two tested positive.
The Indian diaspora in the United Kingdom has emerged as being among the worst affected minority groups in the coronavirus pandemic, according to official data on the deaths in hospitals across England.
Figures released this week by the National Health Service (NHS) England show that of the 13,918 patients who died in hospitals till April 17 after testing positive for the novel coronavirus, 16.2 per cent were of black, Asian and minority ethnic (BAME) background, with the number of deaths under the category at 2,252, news agency PTI reported.
Assam, Meghalaya hike fuel prices amid global crude oil crash
Governments in Assam and Meghalaya have hiked the taxes on petrol and fuel even as global crude oil prices hit a record low and the country continued to observe a lockdown amid the coronavirus pandemic. A litre of petrol in Meghalaya will now cost Rs 74.9 while diesel will cost Rs 67.5.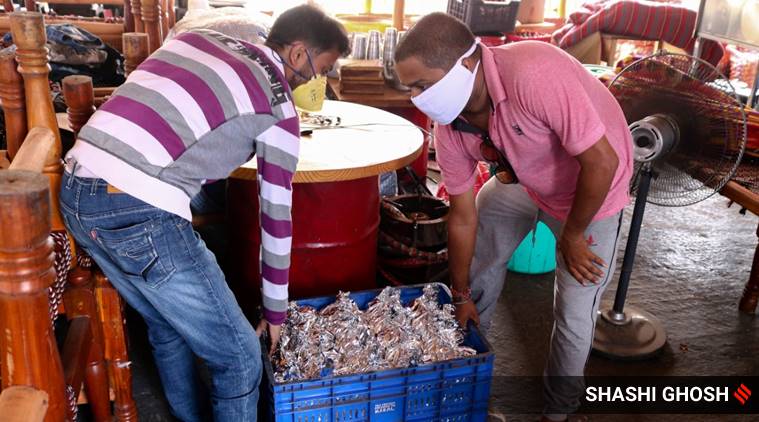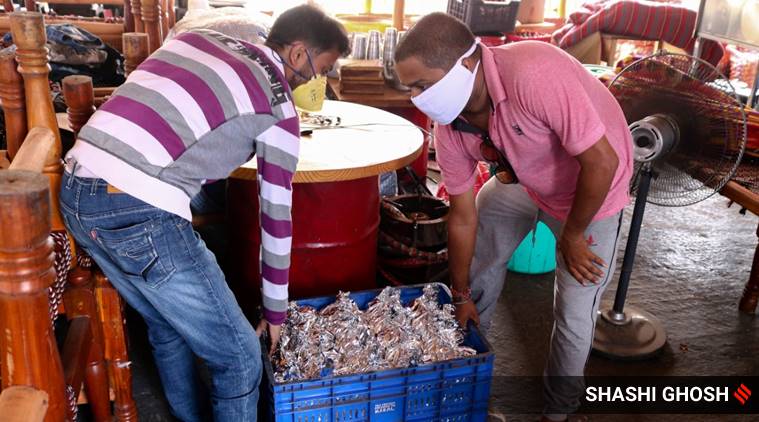 Barasat's Kalikapur area has been declared as coronavirus containment zone. Trinamool Youth Congress started 'Kalpataru community kitchen' for seven days in every district to distribute food. (Express Photo Shashi Ghosh)
Only primary contacts of Covid-19 patients will be tested in Telangana
The Telangana government Thursday issued a notification stating that only the primary contacts of coronavirus positive cases shall be brought to the government identified quarantine centers for testing. Also, the state government extended the home quarantine period from 14 to 28 days and said that it will be monitored everyday.
PIL in Bombay HC seeks adequate facilities for treatment of non-Covid patients
A PIL has been filed before the Bombay High Court seeking directions to hospitals and the state government to provide adequate facilities for treatment of non-coronavirus patients during the nationwide lockdown.
The plea sought directions from the High Court to take necessary action against hospitals and medical institutions that refuse treatment to patients suffering from other ailments. It also sought from the state government to ensure adequate ambulance facilities to ferry patients suffering from COVID-19 as well as other medically compromised patients and, if required, state-run or private buses to be converted into ambulance.
As many as 22 people across Gujarat have been booked under Prevention of Anti Social Activities (PASA) Act for allegedly assaulting police, health department and railway officials, since the implementation of lockdown in the state, police said.
"Instances of attack on police and health officials have come to light recently. In the past 24 hours, two persons from Jetpur city in Rajkot rural, three in Blisana of Sabarkantha and 11 in Bayad of Aravalli have been booked under PASA and sent to different jails. Since the implementation of lockdown, a total of 22 have been booked under six offences of attack on police (four cases), health officials (one case) and railway officials (one case)," Gujarat Director General of Police Shivanand Jha said at a press conference on Thursday.
In Jetpur city area of Rajkot, two persons were arrested for allegedly assaulting a police inspector V K Patel, in-charge of Jetpur city police station around 11.30 pm on April 17. The accused have been identified as Manish Parghi and Deepak Chelani, both from Jetpur, who were arrested under IPC sections 323 (assault), 353 (assault on public servant), 332 (causing hurt to public servant to deter them from duty) and 188 (disobedience to order given by public servant).
Defence Ministry unveils mobile lab to help in COVID-19 screening
Defence Minister Rajnath Singh on Thursday unveiled via video link a Mobile Virology Research and Diagnostics Laboratory (MVRDL) developed by DRDO that will help in speeding up COVID-19 screening, a statement said. The first such Mobile Viral Research Lab (MVRL) that will speed up coronavirus screening and related R&D activities was developed by the Research Centre Imarat (RCI), the Hyderabad-based laboratory of the Defence Research and Development Organisation (DRDO), in consultation with ESIC Hospital, Hyderabad, the statement said.
How India has handled Covid-19 so far: Govt shares report card
After the nationwide lockdown was imposed, Covid-19 testing has increased 24 times while the number of new positive cases grew by 16 times, the central government has said. The statement was made in its one-month report card of the steps taken to contain the coronavirus spread during the lockdown.
C K Mishra, Chairman of the Empowered Group-2, said the novel coronavirus growth has been linear in India, not exponential, and that the government has been able to cut Covid-19 transmission and minimise its spread in the 30 days of the nationwide lockdown.
In a press briefing, the government said that despite a 24-fold increase in testing, the percentage of positive cases was not rising. The government's report card, thus, shows how India managed to control the spread of the virus so far.
Mamata accuses Guv of transgressing constitutional dharma, norms of decency
Amid frosty exchange of letters between the Bengal government and the Centre over the arrival of two teams in Kolkata to assess lockdown violations in coronavirus-hit districts, another slugfest has broken out between Chief Minister Mamata Banerjee and Governor Jagdeep Dhankhar.
A day after the Governor questioned the government's handling of the coronavirus pandemic, Mamata Banerjee, in a strongly worded seven-page letter, accused Dhankhar of repeatedly interfering in the functioning of the administration.
Reminding Dhankhar about Sarkaria Commission's recommendations on Centre-state relationship, Banerjee said, "It is for you to judge who has flagrantly transgressed constitutional dharma and even basic norms of decency between constitutional functionaries."
Run special trains for migrants in Maharashtra after lockdown: Ajit Pawar
Maharashtra Deputy Chief Minister Ajit Pawar urged Railway Minister Piyush Goyal to run special long-distance trains from Mumbai and Pune after the lockdown ends on May 3 to ferry migrants workers stuck in Maharashtra to their native states. According to an official statement, in a letter to
Goyal, Pawar said that the migrant workers, stranded across Maharashtra, may step out in large numbers to return to their states after May 3 when the train services will resume. This can lead to a law and order situation and the Railway Ministry should run special trains to avoid this, he demanded.
IndiGo rolls back pay cut in April salary of employees
IndiGo CEO Ronojoy Dutta told employees on Thursday that the airline has decided to roll back the pay cuts, which were announced earlier for senior staff members, for the month of April in deference to the "government's wishes".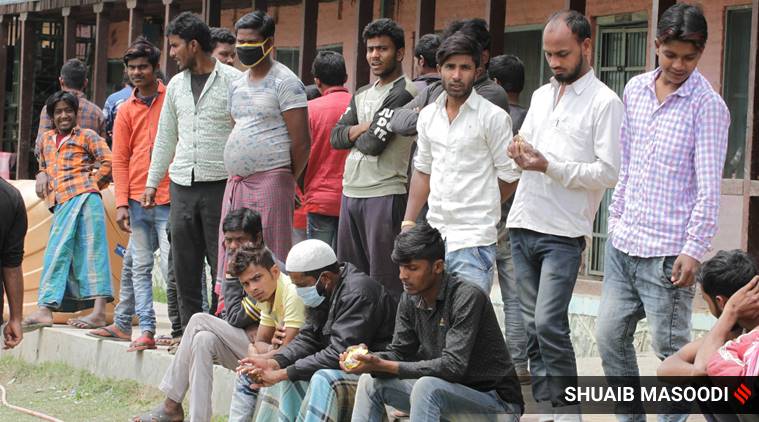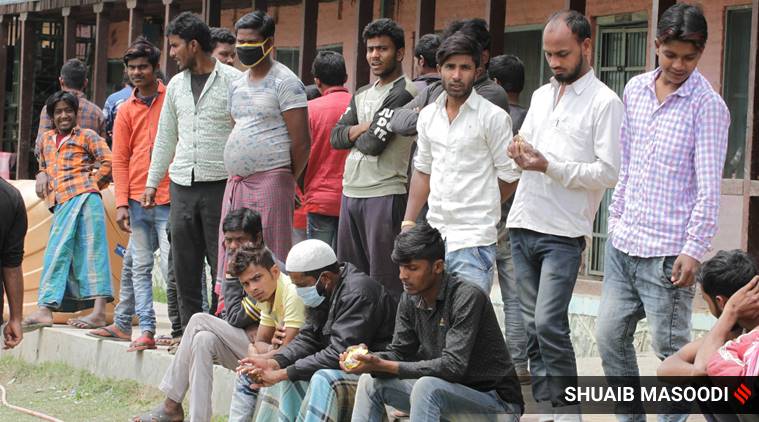 A group of migrant labourers wait outside a government provided accommodation during the lockdown to prevent the spread of coronavirous in south Kashmir's Pulwama district. (Express photo by Shuaib Masoodi)
"However, your Excom (Executive Committee) members and SVPs (senior vice presidents) have volunteered to take pay cuts this month. For everyone else, you can expect your April salaries to be paid without the pay cuts," Dutta told employees through an email, which has been accessed by PTI.
"In deference to our government's wishes of not reducing pay during the lockdown, we have decided not to implement the previously announced pay cuts during the month of April," Dutta added.
First lady Savita Kovind stitches face masks for shelter homes in Delhi
Joining the fight to stem the rise of COVID-19 infections in the country, First Lady Savita Kovind on Wednesday stitched face masks at Shakti Haat in the President's Estate. These masks will be distributed at various shelter homes of Delhi Urban Shelter Improvement Board. The First Lady was seen covering her face with a red colour cloth mask while stitching the masks.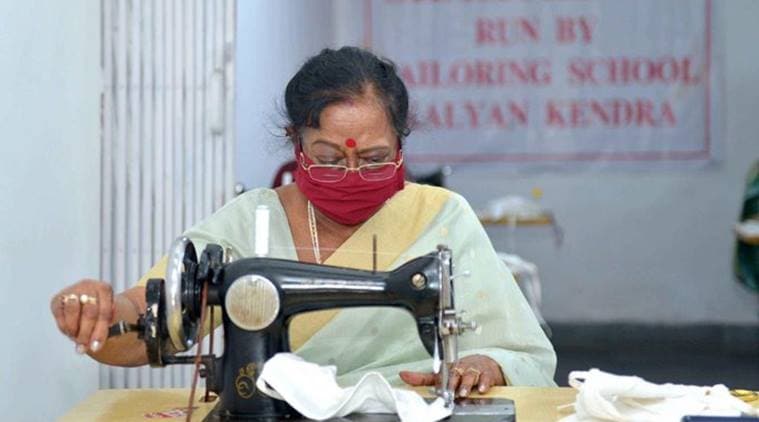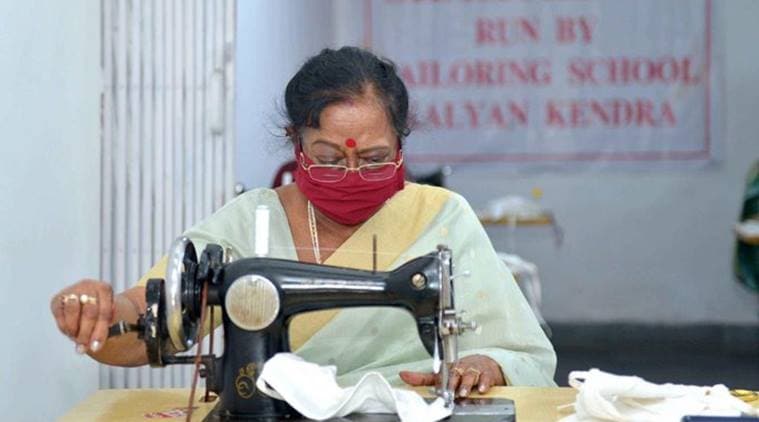 First lady Savita Kovind stitching face masks.
In the last one week, the number of people testing positive for novel Coronavirus in Gujarat has more than tripled, from 766 on April 15 to 2407 on Wednesday, April 22. The number of people dying due to COVID-19 disease in Gujarat has also increased by almost three times during this period. By April 15, the state had reported 36 deaths from the disease. Over the next one week, however, 67 more deaths have been reported. With a total of 103 deaths, as on Wednesday evening, Gujarat is next only to Maharashtra, which has registered at least 270 deaths till now.
Mukhtar Naqvi: Entire Muslim community can't be held responsible for one group's 'crime'
Reacting to the instances of Muslims being blamed for the increase in COVID-19 cases after Tablighi Jamaat event in Delhi, Minority Affairs Minister Mukhtar Abbas Naqvi Thursday said the entire community cannot be held responsible for one group's "crime".
In an interview with news agency PTI, Naqvi said that most of the minority community members have condemned the Jamaat's action. "Whatever that organisation did, criminal negligence or crime…most Muslims have strongly reacted to it, condemned it and called for action against it. Entire community cannot be held responsible for one person or one organisation's crime," he asserted, adding that this has always been India's culture.
Naqvi said those targeting Muslims are a few isolated people who are trying to spread "misinformation" and "we should be united and isolate such elements".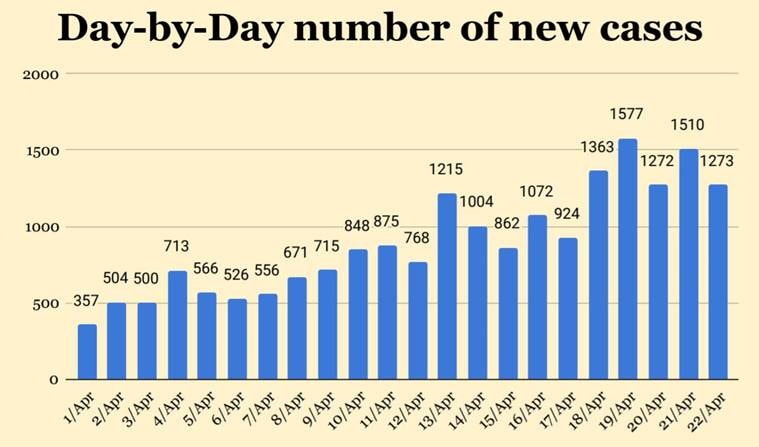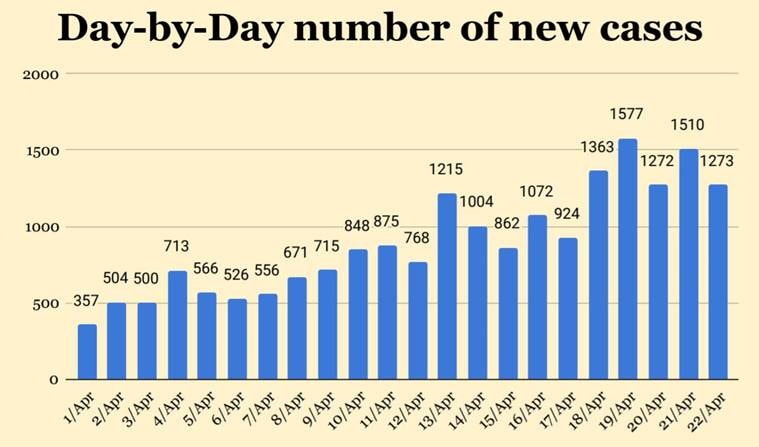 Coronavirus (COVID-19):
| | | | |
| --- | --- | --- | --- |
| State (Top 10) | Total number of cases | New cases on Wednesday | Number of deaths |
| Maharashtra | 5649 | 431 | 270 |
| Gujarat | 2407 | 229 | 103 |
| Delhi | 2248 | 92 | 45 |
| Rajasthan | 1825 | 153 | 27 |
| Tamil Nadu | 1629 | 33 | 19 |
| Madhya Pradesh | 1587 | 35 | 80 |
| Uttar Pradesh | 1449 | 112 | 21 |
| Telangana | 943 | 15 | 23 |
| Andhra Pradesh | 813 | 56 | 22 |
| Kerala | 437 | 11 | 2 |
Indians among worst affected ethnic groups in England
People of Indian origin in the UK have emerged as the worst affected ethnic group from the coronavirus pandemic, according to an official data on COVID-19 deaths in hospitals across England. Figures released this week by the National Health Service (NHS) England show that of the 13,918 patients who died in hospitals till April 17 after testing positive for the novel coronavirus, 16.2 per cent were of black, Asian and minority ethnic (BAME) background and those identifying with Indian ethnicity made up 3 per cent of that.
Some important India news from The Indian Express newspaper today:
# In Bengal, war of words over COVID-19: West Bengal Chief Minister Mamata Banerjee on Wednesday accused the Centre of dispatching faulty COVID-19 testing kits to the state, and strongly criticised it for sending teams to assess the situation on the ground. Meanwhile, in an interview to The Indian Express, West Bengal Governor Jagdeep Dhankhar questioned the state government's handling of the pandemic.
# Sharp rise in MNREGS numbers: While Rajasthan has seen a ten-fold rise, Maharashtra has seen more than double increase in the rural employment guarantee scheme numbers amidst the extended lockdown.
# 7-year jail for attack on health staff: Amid incidents of violence against healthcare personnel deployed in fighting COVID-19, the Union Cabinet on Wednesday cleared an ordinance to make such attacks a cognizable and non-bailable offence, with a maximum jail term of seven years and a fine of Rs 5 lakh. The investigation into the attack must be completed within a month.
# Ram Vilas Paswan interview: Union Minister of Consumer Affairs, Food and Public Distribution Ram Vilas Paswan tells Harikishan Sharma that there is no shortage of foodgrain in the country, and about the steps being taken to ensure the smooth supply across states. "Enough foodgrain in godowns, no shortage," he says.
# Sample testing shift: Maharashtra has become the first state where the number of samples tested at private facilities has overtaken those at government labs — by nearly double on Tuesday alone. According to official figures available Wednesday morning, Maharashtra has tested 82,304 samples so far, of which 41,794 — 50.78% — were done in the private labs.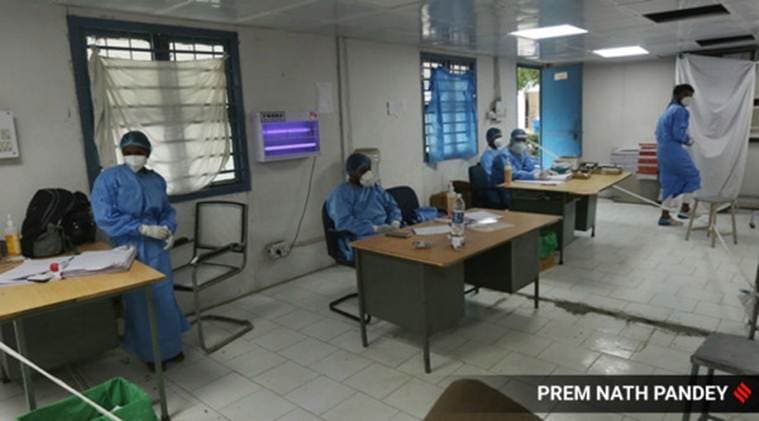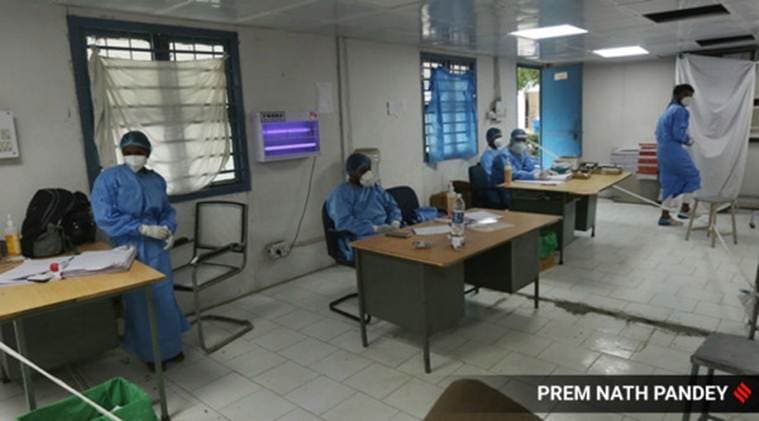 Coronavirus India update: Health workers at a hospital. (Express photo by Prem Nath Pandey)
Don't miss these articles on Coronavirus from the Explained section:
‣ How coronavirus attacks, step by step
‣ Mask or no mask? Why the guidance has been shifting
‣ Besides a face cover, should I wear gloves when I go outdoors?
‣ How the Agra, Bhilwara and Pathanamthitta Covid-19 containment models differ
📣 The Indian Express is now on Telegram. Click here to join our channel (@indianexpress) and stay updated with the latest headlines
For all the latest India News, download Indian Express App.