New Delhi:
The total number of confirmed cases of coronavirus in India now stands over 50, with fresh cases reported in Kerala, Karnataka and Pune on Tuesday. The Union Health Ministry on Tuesday asked people to refrain from travelling to China, Italy, Iran, Republic of Korea, Japan, France, Spain and Germany and advised them to avoid non-essential travel abroad in view of the coronavirus outbreak.
The government has also stepped up tougher border control measures to combat the Covid-19 outbreak as the number of patients is rising mostly from travel history to affected countries. The fresh restrictions both for outbound and inbound travel now include major European countries including France, Spain and Germany.
India had already suspended visas granted till to the nationals of Italy, Iran, South Korea, Japan and China. Visas of all foreigners already in India remain valid and they may contact the nearest FRRO/FRO through e-FRRO module for extension or conversion of their visa or grant of any consular service, if they choose to do so, the ministry said in its statement.
Here are the Updates on Coronavirus Outbreak:
President Ram Nath Kovind's UP Visit Cancelled Due To Corona Scare
President Ram Nath Kovind's scheduled programme in Sonbhadra district on March 15 has been cancelled in view of coronavirus scare in the country.
President Kovind was scheduled to attend Vanvasi Samagam and also inaugurate the newly-built school and hostel of Seva Samarpan Sansthan of Akhil Bhartiya Vanvasi Kalyan Ashram at Seva Kunj Ashram, Chapki in Sonbhadra distric.
Kerala health minister KK Shailaja said hiding one's travel history would be considered a crime. "According to Public Health Act, people hiding their travel history, which can lead to the spread of the infectious disease, is a crime," she told reporters.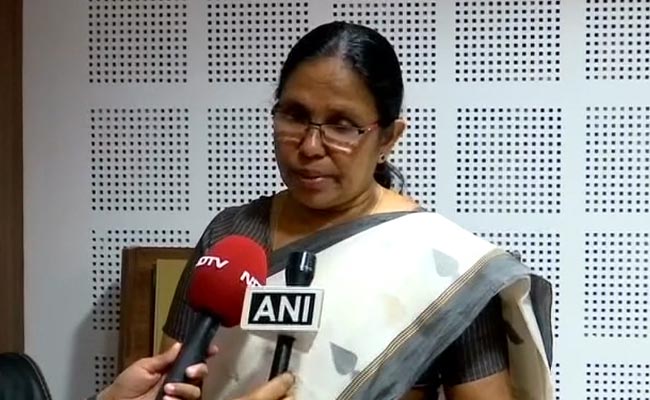 India Suspends Visas For Nationals Of France, Germany, Spain
India has temporarily suspended all the visas and e-visas granted on or before March 11 to nationals of three more coronavirus-affected countries — France, Germany and Spain — effective immediately, as part of the measure to contain the spread of the deadly virus.
After Testing Delays, US Coronavirus Cases Surge Past 900
The number of US cases of the novel coronavirus surged to more than 900 on Tuesday, according to an AFP tally, after public health experts criticized authorities for downplaying the epidemic and lagging behind in testing efforts.
At least 28 people have died and some 910 people have been infected, according to a state-by-state count, a significant jump of some 550 cases the day before.
Tamil Nadu Is Coronavirus Free, Says Health Minister Vijayabaskar
Tamil Nadu Health Minister Dr C Vijayabaskar on Tuesday announced that the state has become "coronavirus free".
He said that the lone patient undergoing treatment for the same made a "speedy recovery".
Air Canada Suspends Flights To Italy    
Canada" national carrier is suspending flights to Italy beginning Wednesday till May 1, Air Canada spokesperson Peter Fitzpatrick said in a statement to Sputnik.
"Due to Italian government regulations and ongoing health and safety concerns, Air Canada will suspend its service between Canada and Italy as of March 11," Fitzpatrick said on Tuesday.
"We continue to monitor this situation and evaluate conditions prior to resuming service; we currently plan to restart service on May 1," said the statement.
Coachella Music Festival Postponed Until October Over Coronavirus Fears
Organizers on Tuesday rescheduled the Coachella music festival for October over coronavirus concerns, following a directive from local health authorities.
"While this decision comes at a time of universal uncertainty, we take the safety and health of our guests, staff and community very seriously," Goldenvoice, the company that puts on the massive event in the California desert, said in a statement.
The two-weekend festival set for April will now take place over the weekends starting Friday October 9 and 16.
Panama Records Central America's First Coronavirus Death
Panama's health minister on Tuesday confirmed eight cases of the new coronavirus in the country, including one death, the first virus-linked death in Central America.
"Of the eight patients we are reporting, one person is in intensive care, another unfortunately died," Minister Rosario Turner said during a press conference in Panama City.
24X7 Control Rooms In Jammu And Kashmir's Doda District
In the backdrop of threat from the deadly coronavirus, the Doda district administration is running 24X7 control rooms and is providing training to the village heads to create awareness and teach people about the precautions required to be taken.
District Development Commissioner (DDC) Dr Sagar D Doifode on Tuesday said that the administrative machinery is ready to deal with any situation and is following the standard operating procedure laid down by Department of Health, Government of India and J-K administration.