New Delhi:
The total number of coronavirus cases in India rose to 34, after three more people tested positive on Saturday. Of the three new coronavirus cases, two are from Ladakh with travel history to Iran and one is from Tamil Nadu with travel history to Oman, the Health Ministry said. All three patients are stable, it added. Prime Minister Narendra Modi also held a review meeting with officials to discuss the outbreak and directed officials to identify locations for sufficient quarantine facilities and make provisions for critical care in case the disease spreads further.
There have been more than 1 lakh cases recorded in 95 countries and territories with 3,515 deaths. Italy's government has placed large parts of the north in coronavirus lockdown as Italian cases soared past 200 on Saturday.
Here are the LIVE updates on Coronavirus Outbreak:
WHO Calls For Robust Measures To Contain Coronavirus Spread
The World Health Organization (WHO) said on Saturday that the spread of COVID-19 can be significantly slowed or even reversed through implementing robust containment and control activities as the number of cases worldwide has surpassed 1,00,000.
China and other countries are demonstrating that the spread of the virus can be slowed and impact reduced through the use of universally applicable actions, WHO said in a statement, referring to measures such as working across society to identify people who are sick, bringing them to care, following up on contacts, preparing hospitals and clinics to manage a surge in patients, and training health workers, the Xinhua news agency reported.
It underlined that containing and slowing the spread of the virus helps buy time for health systems and all of society to prepare and for researchers to identify effective treatments and develop vaccines.
"Allowing uncontrolled spread should not be a choice of any government, as it will harm not only the citizens of that country but affect other countries as well," it said.
The WHO said it will continue to work with all countries, partners and expert networks to coordinate the international response, develop guidance, distribute supplies, share knowledge and provide people with the information so as to protect themselves and others.
According to WHO's daily COVID-19 situation report, as of 10:00 am CET on Saturday, there has been 101,927 confirmed cases reported worldwide and 3,486 deaths, news agency IANS reported.
Nearly 20 Trapped In China's "Coronavirus Quarantine" Hotel Collapse
Rescuers are searching for 19 people who remain trapped in rubble following the collapse of a hotel used as a coronavirus quarantine facility in eastern China on Saturday, state media reported.
A total of 48 people have been rescued out of the 67 initially trapped when the building first crumbled, state broadcaster CCTV said Sunday, news agency AFP reported. Read 
here
. 
Over 40 Rescued After China's "Coronavirus Quarantine" Hotel Collapses
More than 40 people have been rescued following the collapse of a hotel used as a coronavirus quarantine facility in eastern China on Saturday, state media reported.
Officials said around 70 people were initially trapped when the building first crumbled.
Footage circulating on microblogging platform Weibo showed rescue workers combing through the rubble of the 80-room Xinjia hotel in coastal Quanzhou city in the dark as they reassured a woman trapped under heavy debris and carried wounded victims into ambulances.
A total of 43 people have so far been rescued from the wreckage, news agency AFP reported quoting local news agency. Read 
here
.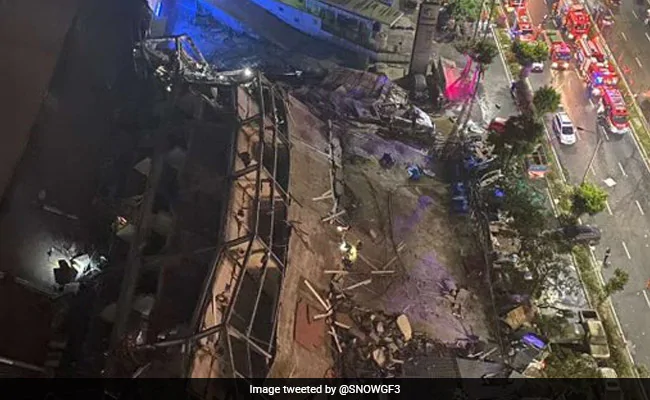 Coronavirus Deaths Rise To 19 In US, New York Declares State Of Emergency
Two more people succumbed to the novel coronavirus in Washington state, officials said on Saturday, bringing the nationwide total to 19, while the number of confirmed cases in New York rose to 89 and a cruise ship with infected passengers remained stranded outside San Francisco.
More than half of all US states have reported cases of the coronavirus, which originated in China last year and causes the sometimes deadly respiratory illness COVID-19, news agency Reuters reported.
Maldives Reports First Two Coronavirus Cases; Two Islands Under Lockdown
The Maldives on Saturday reported its first two confirmed cases of new coronavirus, and placed two of its island resorts under lockdown, as authorities conducted further tests to try to limit the spread of the disease. The two infected people are believed to have caught the disease from an Italian tourist who has returned to Italy and tested positive there.
"These two cases which tested positive are from a resort. They are employees of the resort and are now quarantined," said Ali Waheed, the tourism minister of the island nation, the economy of which is heavily dependent on foreign tourists. 
In a press release earlier on Saturday, the Maldives Health Protection Agency said two French nationals on a second island who showed symptoms of the disease had also been placed in isolation on Saturday, news agency Reuters reported.
China Reports 27 New Coronavirus Deaths, Total Now At 3,097
China on Sunday reported 27 new deaths from the coronavirus, bringing the nationwide total to 3,097.
There were 44 new cases of the infection, most in the virus epicentre of Wuhan, which also accounted for all of the deaths, according to the National Health Commission.
Only three cases, all imported from abroad, were reported outside of Hubei province, of which Wuhan is the capital, in Beijing and the northwest province of Gansu.
New infections reported from Hubei have been on a downward trend for several weeks and at 41, the number of new cases is the lowest since quarantine measures were imposed on the province in late January, news agency AFP reported.
Israel PM to hold conference call with world leaders
Israeli Prime Minister Benjamin Netanyahu on Saturday said that he has initiated a conference call with world leaders to discuss the threat that the spread of coronavirus currently poses, and will present five steps necessary to fight the infection.
According to Benjamin Netanyahu, a global pandemic "is a matter of days or hours" as there is currently no vaccine and the virus is spreading rapidly.
New York declares state of emergency amid outbreak 
Governor of New York Andrew Cuomo says: "I am declaring a state of emergency for New York amid an outbreak of Coronavirus."
Several primary schools in J&K closed over coronavirus fears
All primary schools in several districts in Jammu and Kashmir including Srinagar have been closed after two people were suspected to be infected by the highly contagious novel coronavirus, the government said.