India on Thursday reported 1,409 new
COVID-19 positive cases in the last 24 hours. This brings the total number of cases to 21,393. As the number of positive cases continue to surge, on the flip side,the Health Ministry said, "As on today, we have 12 districts that did not have a fresh case in the last 28 days or more. There are now 78 districts (23 States/UT) that have not reported any fresh cases in the last 14 Days."
Testing to be ramped up


As India completes one month since the lockdown began, Chairman of one of the Covid task forces, CK Mishra said that people have experienced hardships. "This has brought hardship to many people. We must express our gratitude to people who are facing this hardship so we can fight corona," Mishra said.
On that note, Mishra said that as far as treatment is concerned, testing has been ramped up. "We have been able to cut transmission, minimise spread and increase the 'doubling days'," Mishra said. "In these 30 days, we remained more or less stable."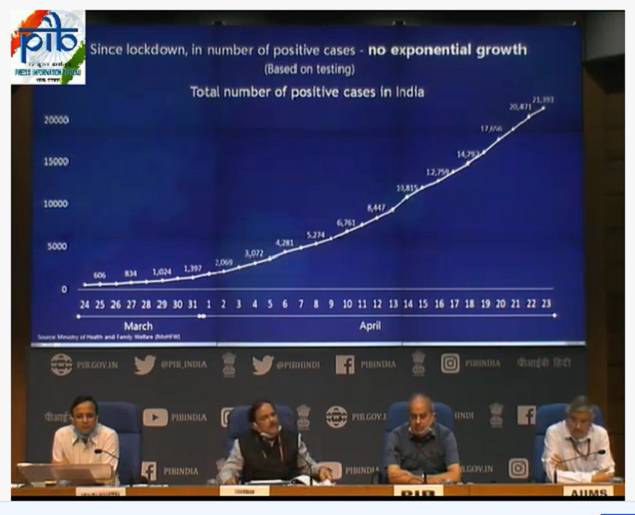 On March 23, 14,915 samples were tested, and on April 22, over five lakh tests were taken as per ICMR data. Officials further added during that press conference that this was not enough and testing will continue to be ramped up as the number of positive cases have increased during this time.
'More or less linear growth, not exponential'


The Health Ministry on Thursday, with the help of graphs, compared India's situation against other affected countries. Upon comparison, it is understood that growth has been "more or less linear, and not exponential". While India is nearly at the same place where it used to be a month ago, officials added that the graph showed that certain strategies in place helped the situation get better.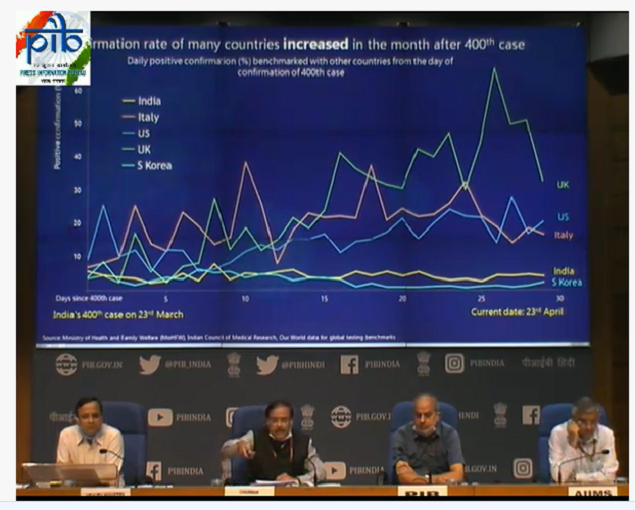 Mishra said, "This slide clearly tells us where we stand and one of the countries that has done better is South Korea. Based on this current story, we need to evolve a strategy for this country. If you look at the figures, we are at the half million mark (on testing). The US did half a million cases earlier. On March 31, 100,000 tested positive in Italy."
Further comparing figures, Turkey on April 16 registered 18,000 positive cases while India, on April 22, reported 20,000 positive cases. "Our testing strategy is focused, targeted and continues to evolve. We learn on a daily basis and make modifications accordingly. Strategy is a response to challenge. As the challenge changes, strategy keeps changing," Mishra said.
'Not overwhelmed but we should be prepared'


The Health Ministry added that currently, they have two goals to achieve after using this period to review, assess and ramp up facilities. "One — Let us reduce number who need to come to the hospital. Secondly, for those who need to come to the hospital – test, cure, ensure mortality is low."

"Right now our hospitals are not overwhelmed but we should be prepared," Mishra added.