NEW DELHI: The number of new
Covid-19 cases in India
is on the rise just as it is in other parts of the world. However, the doubling rate – the number of days it takes for the cases to double – offers a glimmer of hope in the country's continuous fight against the disease.
It appears that strict lockdown measures coupled with an increase in the number of tests being conducted across the country seem to be yielding results.
Read our coronavirus live blog for all the latest news and updates
As per data obtained from the ministry of health and family welfare and Worldometers, India took eight days to double the number of cases from 8,000 to 16,000. In comparison, the same figures were reached in two days in the US, three days in Germany and Spain, and in four days in the UK, France and Italy. Canada, where the number of cases increased from 8,000 to 16,000 in six days, also reported a reduced rate of increase.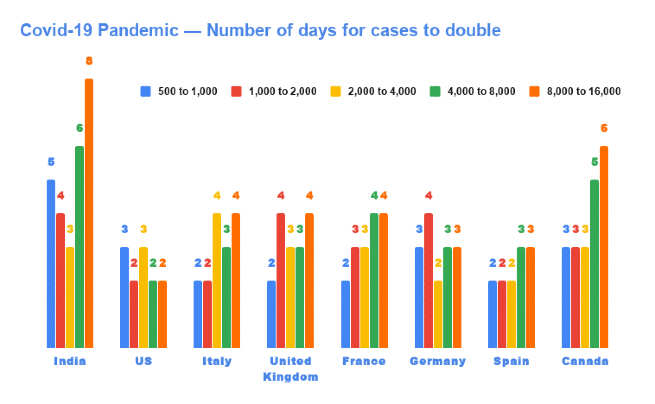 India took five days to double its number of cases from 500 to 1000. It crossed the 2,000-mark in the next four days. The jump from 1,000 to 2,000 cases came in a short span of three days.

However, countries like the US and Spain, the data shows, are struggling as the number of positive cases in these countries have continued to double within two or three days.

More on Covid-19
The Union Health Ministry said on Monday the rate at which the number of coronavirus cases in the country was doubling in the last one week was 7.5 days, slowing from 3.4 days before the lockdown.