New protocol says asymptomatic contacts to be tested only after five days. So, fewer tests means fewer detections, but the curve will not flatten.
By the end of next week, the number of Covid-19 positive cases in Mumbai is likely to come down drastically. But we need not start clapping, as the new numbers won't be a sign of the city flattening the corona curve. The fewer numbers will show up only because the BMC has now decided that it will not immediately test the family members and other high-risk contacts of Covid-19 patients if they don't show symptoms of the disease.
In a circular issued on Sunday, the BMC said that the high-risk contacts of Covid-19 patients who are asymptomatic need not be tested.
However, it revised the notification on Wednesday as per the
Indian Council of Medical Research (ICMR) guidelines and said that high-risk contacts should be tested after five days of monitoring.
Healthcare experts have termed the latest BMC strategy a gamble. While researchers are still scrambling for answers on the role of asymptomatic carriers of Covid-19, preliminary research suggests they might play a significant role in the spread of the disease.
Till Wednesday, Mumbai reported 1,936 Covid-19 positive cases, while 43,249 people were quarantined at home, and 3,271 were under institutional quarantine. The BMC had traced 45,768 lowrisk contacts and 8,219 high-risk ones. The BMC has till date conducted around 30,500 tests, and conducts nearly 2,200 tests per day.
A senior BMC official said that the civic body tests 2,374 people per million and has conducted the most number of tests in the country. "Our test ratio per million people is higher than that of Delhi (448 tests per million people), Kerela (491 tests per million people), and Tamil Nadu (659 tests per million people)," he said.
Follow LIVE updates on coronavirus here
Why test less?
While doubts have been raised over the BMC's capacity to conduct large-scale testing that a city like Mumbai needs, Municipal Commissioner Praveen Pardeshi said that mass testing of asymptomatic patients also resulted in 'false testing', which basically means the initial test of a person without Covid-19 symptoms cannot detect the virus. "The timing of the test has to be right. We are following the ICMR guidelines. Testing on close contacts will be carried out between fifth and 14th days to reduce false negatives. This will continue to help us identify the real positive cases and safeguard everyone," Pardeshi said. The municipal commissioner, who is also Mumbai's Disaster Management Committee chief, said that symptoms normally show up after five days of coming in contact with a Covid-19 patient. "We will ensure the high-risk and low-risk contacts remain under quarantine," he said.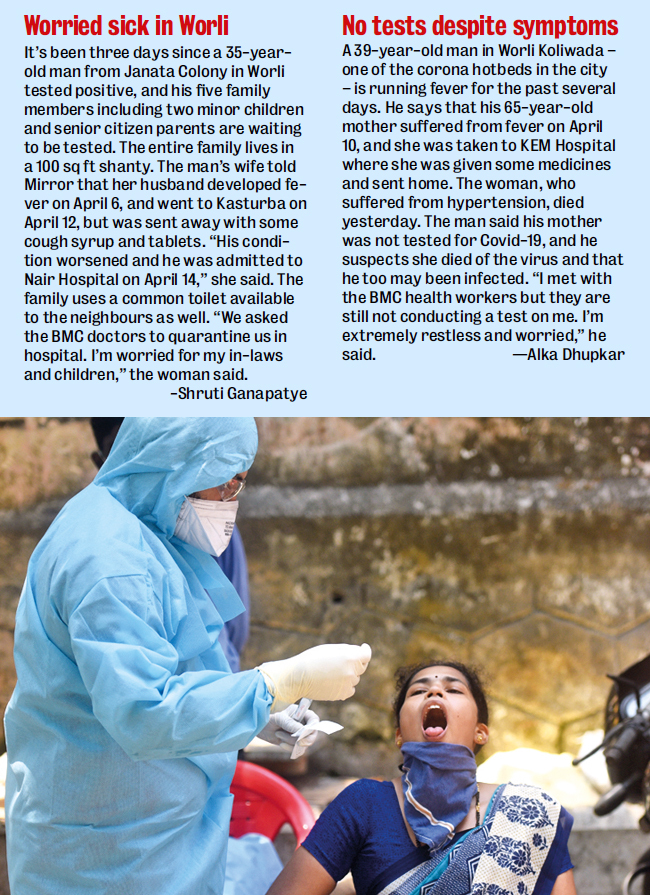 It's been just 17 days of April and the civic body has revised its testing formula thrice. Now, hundreds of high and lowrisk asymptomatic contacts quarantined at the BMC-controlled facilities have been released and asked to self-quarantine at home. Only those high-risk contacts that reside in slums or are homeless will remain in the BMC-run facilities. Healthcare workers have been instructed to wait for people to turn up at fever clinics installed at locations where clusters of cases have been reported. The revised guidelines have made it mandatory to test pregnant women, cancer patients and those with renal failure.
"The high-risk contacts residing in high-rises or flats where they have a separate room and access to toilet should be quarantined at home itself. If they show symptoms of coronavirus, their swabs will be collected from home," a senior BMC official said. Anant Bhan, a leading researcher in global health, bio-ethics and health policy, said the BMC's latest move was "baffling". "Various studies show that asymptomatic patients transmit coronavirus. The lockdown should be used to ramp up testing. I don't see any sense in not testing asymptomatic contacts Covid-19 patients, be it high-risk or low-risk contact. Not testing them will give such people a false sense of security," Bhan said. The ICMR, which Pardeshi quoted to justify fewer tests, said on Monday that India must increase testing across the country.
Wrong move, say netas
Samajwadi Party MLA from Bhiwandi, Rais Shaikh, called the BMC's revised strategy a "blunder". He said he has also written to Chief Minister Uddhav Thackeray, urging him to review the "inconsistent testing policy of the BMC". "It seems the BMC is changing its policy every day. It just shows a lack of vision and expertise. The ICMR says asymptomatic contacts must be tested on days five and 14 so BMC has now added this clause to conduct fewer tests. The number of positive cases will reduce but that will be an artificial flattening of the curve," he said. Shaikh also raised questioned whether the state had enough kits to conduct large-scale testing.
Meanwhile, BJP's Devendra Fadnavis, the leader of opposition in the state, said the BMC was trying to "suppress the actual Covid-19 numbers". "The ICMR has called for aggressive testing and the BMC is doing exactly the opposite. We request the state government to conduct aggressive testing to contain the spread of the virus," Fadnavis said.