NEW DELHI: Amid prevalent chaos and uncertainty over access to the essential services and commodities during the lockdown, we bring you the latest updates from your city.
Update at 9pm
: Coronavirus cases in Delhi rise to 2,248; toll reaches 48 with one more fatality.
Update at 8.30pm
: Two new areas of Lado Sarai under south Delhi added to list of containment zones.
Update at 8pm
: A nursing officer of Safdarjung Hospital tests positive for Covid-19.
Update at 7pm
: Over 100 cases were registered and 3,392 people detained in the national capital on Wednesday for violating government orders during the lockdown imposed to control the coronavirus outbreak, police said.
Update at 6.30pm
: Decongestion of overcrowded women wards, improving healthcare facilities and introducing provisions of maintaining social distancing at jails are among the recommendations made by the NCW to states in view of the Covid-19 outbreak.
Update at 5.30pm
: The Delhi Police received over 900 calls on its 24×7 helpline number from 2 pm on Tuesday and the same time on Wednesday, seeking assistance on issues faced during the lockdown, officials said. A total of 27,007 calls were received by the police on its helpline number (23469526) so far since the lockdown, they said.
Update at 5pm
: It has been 28 days since the nationwide lockdown was announced by Prime Minister Narendra Modi, but around 50-60 residents of the Chak Chila village residing in the middle of the Yamuna river on an island has not got a single supply of ration or cooked meal from the Arvind Kejriwal-led Delhi government.
Update at 4.50pm
: With a docking station outside every containment zone in North Delhi Municipal Corporation jurisdiction, the civic body plans full safety and all possible protection for its staff. According to the civic body, every staff member deployed in the containment zone, whether from sanitation, engineering, public health or any other department, starts their duty from these docking stations.
Update at 3.45pm
: Seven labourers who were cycling their way to their home in Bihar's Motihari amid the lockdown were intercepted at a police picket in south Delhi's MB road, officials said on Wednesday. The labourers were provided 12kg of dry ration each and sent back to their accommodations at Durga Vihar in south Delhi, they said.
Update at 2.55pm
: Authorities launch drive to trace contacts of trader who died of Covid-19 in Azadpur Mandi
Update at 2.30pm
: Ten staffers of a private hospital in southeast Delhi's Okhla, who had come in contact with a coronavirus patient, have tested negative for the virus, a senior doctor at the hospital said.
Update at 2pm
: Delhi health minister Satyendar Jain on Wednesday said that there are a total 2,156 coronavirus cases in the national capital including 611 who have recovered from the disease.
Update at 1.30pm
: Gurugram reports four new coronavirus cases, tally rises to 41
Update at 12.50pm
: After meeting with Amit Shah, IMA announces withdrawal of its nationwide protest
Update at 12.10pm
: NGT raises concern over Covid-19 bio-medical waste disposal
Update at 11.35am
: A CRPF jawan, part of a battalion deployed in Jammu and Kashmir, has tested positive for Covid-19 in the national capital, a senior official said on Wednesday.
Update at 10.40am
: Shops selling educational books and electric fans, services of bedside attendants of senior citizens and public utilities, including recharge facilities for prepaid mobile phones have been allowed during the lockdown period.
Update at 9.45am
: Death toll due to Covid-19 touches 640; number of cases rise to 19,984: Health ministry
Update at 8.50am
: Police conducting checks at Delhi-Ghaziabad border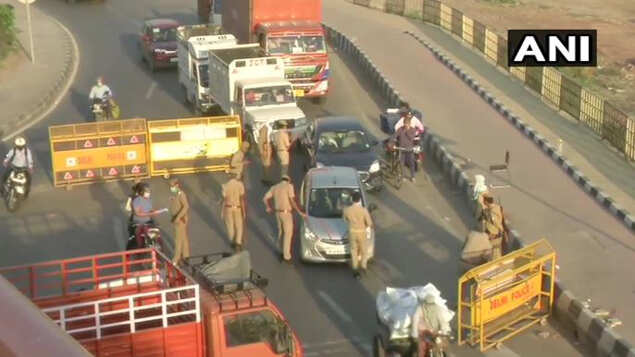 Over 1 crore people will get free rations: Arvind Kejriwal
Over one crore people who have been hit by the extended lockdown will be given free rations by Delhi government. On Tuesday, chief minister Arvind Kejriwal said 2,000 food coupons will be given to each MLA and MP for distribution of ration among the needy who don't have any identity documents in their constituencies.

In war zone, docs battle sweat, hunger, fear
"My biggest fear, more than dying, is that my body will be disowned after I die," said Dr Sumit Kumar (name changed) who is deployed in the Covid-19 ward of one of the biggest government hospitals in the city. "In this war, we are the warriors and before we fight the disease, we win over our fears first," he added.

Three more red zones in list, total now 87
Three new areas were added to the list of containment zones on Tuesday, as the government ramped up screening and testing of people. Gali No. 2, 3 and 4 in Devli Extension under south district, H.No. F-138 and F-139 in Gali No. 1in Harsh Vihar of Hari Nagar Extension, southeast district, and H.No 300 in Gali No. 3 to H.No 739/16 on Krishna Puri Main Road in Mandawali of east district were declared the new containment zones, taking the total number to 87.