NEW DELHI/
SRINAGAR
: Days after the NIA arrested an overground Jaish worker who drove the Pulwama suicide bomber to the
attack
site, a father-daughter duo has landed in the agency's net for allegedly facilitating and sheltering terror conspirators involved in the February 14, 2019, strike that killed 40 CRPF personnel.
Tariq Ahmed Shah, 50, a resident of Hakripora village in Pulwama, and his daughter Insha Jan, 23, are accused of having harboured suicide bomber
Adil Ahmad Dar
, Pakistani terrorists
Umer Farooq
and Kamran (both killed in subsequent encounters with security forces in J&K), Jaish terrorist from
Pulwama Sameer Ahmad Dar
and another Pakistani terrorist Mohd Ismail, at their residence.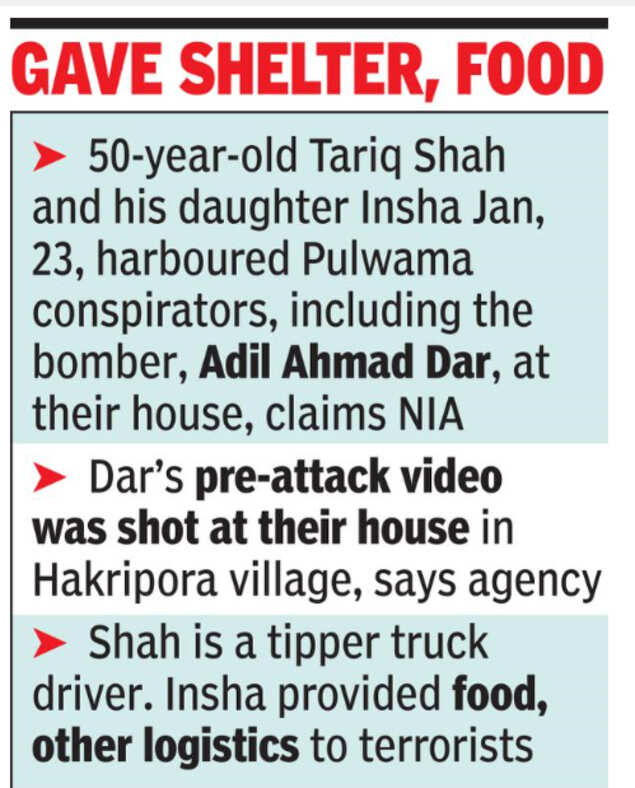 The NIA claimed that Tariq Shah, a tipper truck driver in south Kashmir, admitted that his Hakripora house was used to shelter the
terrorists as they planned the attack on the CRPF convoy. It was at his house that the video of Dar, released by Jaish after the Pulwama attack, was recorded before the attack, the agency claimed.

'Arrested man was main conduit of funds for jihadis operating in Jammu and Kashmir'
Insha Jan provided the terrorists food and other logistics during their stay in 2018-19 on more than 15 occasions, each lasting two to four days, the NIA said.

Initial interrogation revealed that Insha was in constant touch with Umar Farooq, the Pakistani IED maker, and was in communication with him over telephone and social media platforms, the agency claimed.

Tuesday's arrests come on the heels of the first big breakthrough with the arrest of Jaish overground worker Shakir Bashir Magrey, a resident of Hajibal in
Kakapora, Pulwama. Magrey, as per the NIA, had driven Adil Dar to a point 500 metres short of the attack site. He had also helped secure material for the IED used in the attack and is said to have ordered ammonium powder, batteries and gloves from Amazon.

As per sources, the Shah family comprising Tariq and Insha had earlier given shelter to Abu Dujana, slain Pakistani
Lashkar-e-Taiba commander, during 2017-2018. They added that Tariq Shah was involved in ferrying terrorists from the Wagah border and was the main conduit of funds for terrorists operating in the Kashmir Valley.

Dujana was killed in the vicinity of Hakripora, 13km from Pulwama town on July 13, 2018, after he deserted Insha and developed a relationship with another woman in a nearby village . It is also believed that Insha informed the police about Dujana's presence in that house with another woman.

Reports said the NIA, accompanied by police and CRPF, raided Tariq Shah's residence early on Tuesday. Both, Tariq and Insha, were taken to the nearest police station before being handed over to an NIA team.