Had the pleasure of meeting two soldiers of Indian National Army- INA. Azad Hind Fauj One was Bhim Singh Bisht in village Panai near Gaucher and Bakhtawar Singh Bisht of village Srikot at Gauchar in Chamoli district of Uttarakhand state on 19 October 2013.
Both were enrolled in the year 1940, when the Second World War was at its initial phase. After a short training of 4 to 5 months, they were drafted into the newly raised 5th battalion of the Royal Garhwal Rifles, at Lansdowne.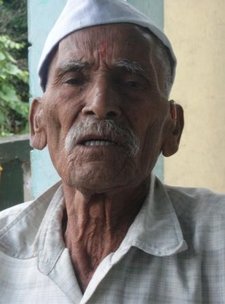 Bhim Singh
Bhaktawar Singh, was not keeping well when I met him.
Soon after they were sent to Malaysia and their certificate of service reads as, 'Embarked Bombay, 21.12.41 and Disembarked at Malaya on 3.1.42. Soon on landing they were sent to the battlefield in the jungles of Malaysia to fight the Japanese onslaught.
The second battalion of the Garhwal Rifles was already in Malaysia to fight against the Japanese advance.
In this war against the Japanese advance many were killed, injured and the rest who survived were taken as prisoners.
Later most of them were motivated to join the Indian National Army-INA, especially after Subhas Chandra Bose took the command of INA.
Like many others they also joined the INA and fought along with the Japanese forces in the Jungles of Burma.
After the defeat of the Japanese, they like other were transported back to India from Malaysia. Back in India, all the INA soldier's were interviewed and discharged from service officially in April 1946 and sent back home.
Their army certificate reads as, 'Discharged by order of His Excellency the Commander in Chief in consequences of service no longer required.' Many of the INA soldiers were later absorbed by state police forces.
Much later all the INA soldiers were given pension by the government of India. Today those surviving must be in their nineties, just like Bhim singh and Bhkhtawar Singh. Jai Hind to them.