The Uttarakhand map reveals a fascinating composition of 13 districts within this northern state of India. As the country's 27th state, Uttarakhand holds a special place in the hearts of many, earning the endearing title of "Devbhoomi" due to its rich religious history and captivating mythologies.
This page is your gateway to exploring the diverse regions and administrative divisions of the breathtaking state of Uttarakhand. these detailed map highlights the distinct boundaries of all 13 districts, offering you a comprehensive visual overview of the state's geographical layout.
Embark on a captivating exploration of the Uttarakhand map, where ancient legends intertwine with natural wonders and spirituality merges with scenic beauty. Discover the hidden gems and revered landmarks that define this mystical land, leaving an indelible mark on your heart and soul
When examining the map of Uttarakhand, you'll notice that all districts neatly fit into two divisions: Kumaon and Garhwal. These divisions contribute to the region's cultural tapestry, adding depth and diversity to Uttarakhand's heritage and traditions.
Use this map to plan your travels, understand Uttarakhand's regional diversity, and explore the districts that intrigue you the most. Whether you're a traveler, researcher, or just curious about this enchanting state, this Uttarakhand District Boundary Map is a valuable resource for your journey.
It proudly boasts four revered pilgrimage sites: Kedarnath, Badrinath, Gangotri, and Yamunotri. These sacred sites draw countless devotees seeking spiritual solace. Alongside these landmarks, Uttarakhand is adorned with a plethora of other religious places and temples dedicated to various deities, creating an aura of divine enchantment.
Beyond its spiritual allure, Uttarakhand entices visitors with its breathtaking natural beauty and the promise of memorable weekend getaways. This heavenly abode boasts numerous renowned hill stations, revered as some of India's most popular destinations.
Each hill station possesses its own unique charm, from the serene landscapes of Nainital to the majestic peaks of Mussoorie. Uttarakhand is a treasure trove of captivating vistas and serene retreats that captivate the souls of all who venture here.
Uttarakhand Map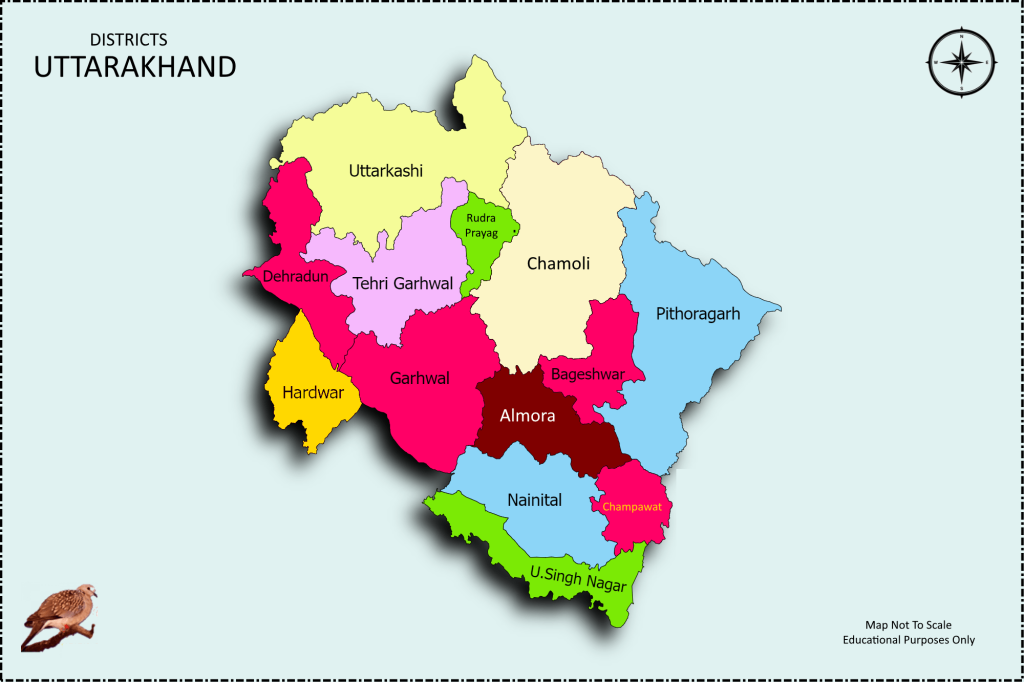 On 9th November 2000, Uttarakhand emerged as a separate state following its division from Uttar Pradesh. Previously known as Uttaranchal, it borders the…
Uttar Pradesh to the south,
Himachal Pradesh to the northwest,
Haryana to the west,
Tibet to the north,
Nepal to the east.
Discover Uttarakhand's Geography: Explore the Map of 13 Districts
Garhwal Division: Exploring the 7 Districts of Uttarakhand's Enchanting Garhwal Region
Pauri Garhwal
Tehri Garhwal
Uttarkashi
Chamoli
Dehradun
Rudraprayag
Haridwar
Kumaon Division: Exploring the 6 Districts of Uttarakhand's Splendid Kumaon Region
Almora
Pithoragarh
Champawat
Nainital
Bageshwar
Udham Singh Nagar