A timely intervention by the Border Security Force (BSF) helped save the famous Kalimath temple in Rudraprayag, Uttarakhand.
Kalimath is one of the 108 'Shakti Peeths' in India.
Flooding in the River Kali had washed away a large portion of land, which posed a big threat to the shrine.
A BSF team not only saved the building by creating iron stone caging along the river bank but also helped over 20 isolated villages of the Kalimath valley to reconnect with the mainland through three Tyrolean traverse ropeways.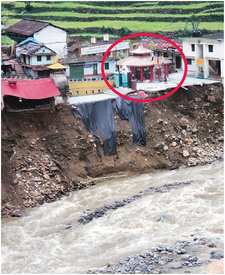 Danger: A portion of land near the Kalimath shrine (encircled) was washed away threatening the structure of the famous temple
The team landed in Kalimath village in the second week of July to help the flood-affected residents. When they saw that the shrine was endangered, they changed the course of the Kali river.
The team will now build a permanent RCC embankment to further secure the temple.
BSF Commandant Raj Kumar Negi, who is looking after the entire operation in Kalimath, said: "We have placed three layers of iron stone caging.
"Work to build a permanent embankment will start as soon as the weather clears. We will also construct three classrooms of the government high school in Kalimath."
The 130-member team conducting relief operations comprises doctors, engineers, mountaineers and rafting experts.
A large portion of the temple, located at an altitude of around 6,000 feet was damaged in the monsoon mayhem.
It is believed that Kalimath is the place where Goddess Kali killed the demon Raktavija. Kalimath is only the place where Kali is worshiped along with her sisters Laxmi and Saraswati.
A large numbers of devotees visit the shrine throughout the year. Apart from the temple project, the BSF team helped more than 15,000 people of 20 villages get connected with the rest of the world again.
Troubled water: Border Security Force staff help a young woman use one of three ropeways built to maintain accessibility for flood-hit villages
Tyrolean traverse ropeways were fixed at Kotma and Syansu, Jal Band and Chilond and Rundkot.
Kotma's village pradhan (head) Laxman Satkari said: "We were completely marooned and isolated. The ropeways have benefited the local people in a big way. Now we can take the relief material to our villages."
The BSF has adopted five flood-hit villages – Kalimath, Kbiltha, Kotma, Syansu and Chilond. They have set up community kitchens and provided medical aid to the affected population.