NGOs abandon flood-hit Uttarakhand: How 80 per cent have left the district they promised to rebuild
Non-Government organisations seemed to be omnipresent after Rudraprayag was hit by flash floods last year.They all expressed their desire to be part of the reconstruction initiatives, and signed hundreds of Memorandum of Understanding (MoU) with the district administration. But now, most of them have vanished. Over 80 per cent of these NGOs have left the district without doing anything.
Besides the NGOs, several corporate groups and government agencies visited Rudraprayag, aiming to provide help to the affected families.
They had their tasks cut out: construction of houses for villagers and new school buildings; ensuring supply of potable water; and chalking out livelihood programmes. But these tasks remained only on paper; the reality has been quite bleak.
The only silver lining, as always, remained the impressive reconstruction operations of the Army and the paramilitary forces.
The district administration keeps track of the work done by the NGOs, and updates relevant information on the official website http://rudraprayag.nic.in
However, it is clear from the website that many of the NGOs have left.
In case of such NGOs, the district authority has clearly mentioned – "Backed out and the MoU they signed with the state remains cancelled."
Rudraprayag district magistrate Raghav Langer said: "After last year's flash floods, about 200 to 300 NGOs approached us. Many signed MoUs for various reconstruction works. But now only 35 voluntary organisations are active and continue to work."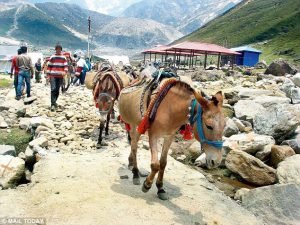 The number of organisations that are actually working in the Mandakini Valley, which was affected by the floods, is also small. Over a hundred government schools were damaged in last year's disaster. The list includes 23 high schools/intermediate schools, and 84 primary/upper primary schools. But it seems the NGOs took little interest in reconstruction of the schools. Barring reconstruction of 19 schools, for which a few selected voluntary organisations or corporates have been involved, the rest of the damaged schools were to be reconstructed with the aid from Central government's Sarva Shiksha Abhiyan. While several NGOs were initially active in distributing relief materials, they gradually disappeared. Observers say that several NGOs were less keen on distributing relief materials in the far-flung areas. And the affected families in those areas are still waiting for help.In sharp contrast to the NGOs, the Army and paramilitary forces impressed one and all with their reconstruction work.
The Border Security Force adopted 12 villages in the Kalimath Valley. They constructed a school, five community halls, built an embankment to protect the ancient Kalimath temple, set up four trolleys and constructed three temporary helipads. The force also distributed tents, solar lights, food, books, computers and television sets, besides providing medical aid to the affected people. And all of it was done smoothly in a span of less than six months. Laxman Satkari, a resident of Kotma village, said: "The state government should have used the Army on a larger scale for the reconstruction."