While in & out of service one has spent most of the years living & serving in the Himalayas, from Kashmir to Arunachal Pradesh. Apart from the captivating beauty of the hills, one aspect that always made an indelible impact was the extreme fragile nature of the hills.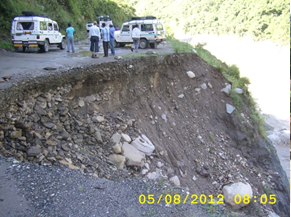 Being an inveterate angler, one naturally has observed hill sides, its composition, vegetation, seasonal variation of rivers & river beds with more than pedestrian interest. Over the years & especially in Uttarakhand post its establishment, negative human intervention has inflicted irreparable damage to this highly fragile mountain range.
The serious purport of New Fold Mountains has finally dawned on the erudite. The earlier unlettered settlers of the hills were aware of this all along through centuries old wisdom, even though they may not know that the Himalayas have just entered the Play School compared to the age of other mountains elsewhere. How young are Himalayas then?  Only 40 million years – some say 40 to 50 million years. Even though our Himalayas are young, what makes our mountains so fragile? It is said that the Indian sub continent drifted steadily North-Eastwards crashing against the Asian continent. In the process, Tethys Sea was obliterated but its sea bed being soft was pushed vertically like papier mache creating the Tibetan Plateau & Himalayas. Much of the ingredients of Tethys Sea, like sand, round boulders of varied size, shingle, granite rubble, now can be seen precariously hugging the steep slopes of Himalayas. It is only in the very uppermost reaches of Himalayas that bare, solid stony granite features can be seen. Apart from this, large swathes of hills in the foothills & mid Himalayas are covered with mixed forests clinging to the erstwhile Tethys sea bed rubble. Remove these forests & see how soon the entire Gangetic Plain will be elevated with the sediment washed down from the mountains & hills. As a rule, Southern slopes are barren. These characteristics make a recipe for disaster. Hillsides, intact & collapsed bear traces of a violently elevated river bed. Such features have scarred the hill sides astride the Himalayan Rivers. Have you travelled the length & breadth of Uttarakhand? Here is where you will see how fragile & loosely packed the slopes are:-
(a)  Astride road Rishikesh – Shivpuri – Beas Ghat – Marine Drive.
(b)  Astride Bachila Khal – Deoprayag.
(c)  Deoprayag – Srinagar.
(d)  Karanprayag – Gwaldam.
(e)  Karanprayag Pipalkoti.
(f)    Kempty Falls – Jamuna Bridge – Naugam – Purola.
(g)  Bhatwari- Uttarkashi & beyond.
(h)  Rudraprayag – Tilwara – Agastmuni – Vijaynagar – Chandrapuri – Guptkashi – Gaurikund.
The examples are endless. One would expect forested slopes to be stable but the recent floods have dispelled this notion – even wooded slopes have come crashing down! This further reinforces the extreme fragile nature of the hills in mid & upper Himalayas where small, medium & large villages as well as reinforced concrete multi-storied structures have mushroomed. A view from Guptkashi, Eastwards towards Okhimath makes one wonder what massive multi- storied buildings are doing in such a fragile environment! Clearly some basic courtesies due to nature have been ignored.
Construction of roads 
Haven't we extolled the virtues of some politicians who have knitted almost all villages with an intricate web of roads – some as badly surveyed as the Phuntsholing – Confluence – Ha/Paro/ Thimpu road in Bhutan? This deserves to be described. Just above Phuntsholing the road snakes up on a steep slope with a series of several loops one above the other. One has seen a landslide on the uppermost loop obliterating all roads downhill! Uttarakhand has replicated this model at several places with similar disastrous consequence.
For the sake of convenience, roads follow the river as it does on Kedarnath highway. Nothing wrong in that! However, excavating rocks form the same area for road construction & dozing the surplus down towards the river is abnormal & is clearly visible. Now it has dawned on all that dumping of such material disturbs the flow of the river as it did. This practice of pushing rubble downhill has been the practice all over the hills where roads have been constructed. Such practices not only scar the hills but also create deep furrows that deplete surface vegetation & offer rainwater to erode the surface speedily.
Urbanization
The lure of the lucre has driven locals to cluster around the road at various places to set up a variety of commercial ventures. They too have found it convenient to mine for building material from adjacent sites along the road – towards the hill side loosening & removing the very foundation over which the hill side above rested for centuries. They scored a double whammy by sticking pillars into the exclusive domain of the river, i.e. on the river bed to make multi-storied hotels. They even conduct you around such surviving structures filled with sand up to two floors expecting to evoke sympathy. The Mandakini river water laps the lower most floor of the structure. Such transgressions are a rule rather than an exception in the entire Mandakini river bed.
Load Capacity of the Highway
Clearly, the road & tracks are not capable of taking heavy volume of traffic, foot & hoof prints of pilgrims. Apart from this, heavy machinery, hydel project related structures & frames have used the very same road. Resultantly, the hills have been destabilized by human interference driven by greed & unethical processes adopted to push projects with total disregard for public concerns & more importantly for the environment.
Impact on Landslides
All human activity, on the river bed, astride the road & snaking up the upper reaches to connect villages, as well as unbridled steel & concrete loading of towns like Guptkashi & Ukhimath have reached saturation point. That saturation point was breeched when the hills absorbed far more water in a short span of time. Thereafter all collapsed like a house of cards. Even wooded slopes that had no roads, villages or houses collapsed into the Mandakini. What remains is sinking. The ominous symptoms can be witnessed at the lower periphery of Guptkashi. At the very bottom of this pyramid is something far more disturbing – hydel projects!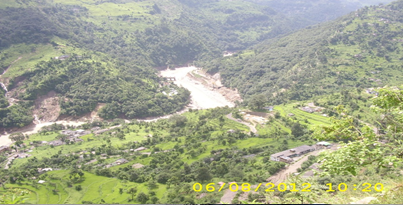 Hydel Projects 
Now that the erstwhile Kedarnath highway is open for light vehicles, the massive infrastructure created by hydel projects at the very base of Guptkashi, & many other places by other hydel projects, that have shaken the very foundation of what lies above them by drilling tunnels &, as alleged, use of explosives, can be witnessed.
Madmaheshwar River in the background. Tunnel at end of zig-zag
road on opposite slope & landslides into Mandakini.
Re-think on Road Alignment
One has seen roads, astride the rivers repeatedly suffering from landslides; disrupting traffic & inflicting periodic heavy & avoidable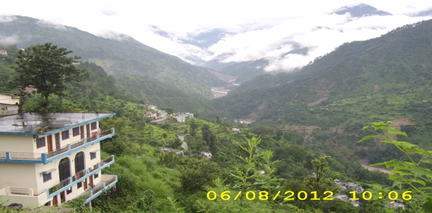 expenditure on year round maintenance. Is there an alternative? Simply put, roads hugging the ridge or in the near upper reaches are less prone to landslides at least free from the effects of flooded rivers. Any attempt to invest more on restoring the traditional Rudraprayag – Soneprayag will meet the same fate for reasons aforementioned. However, adopting the road Vijaynagar – Ganganagar – Basukedar – Lamgondi – Guptkashi will present far less disruption & destruction. It is this road that needs to be developed as a highway. The Achilles heel of this road would be the stretch & loop just above Ganganagar. Once this is addressed, this alignment would be enduring.
As an illustration, the road Mussoorie – Suakholi – Dhanaulti – Kanatal – Chamma runs virtually on the ridge. By default, since this road was built to service the Apple Belt, it serves as an apt example of a landslide free & safe alignment. The road Ghurdauri Engineering College – Pauri by-pass – Bubakhal – Mandakhal – Khirsu too serves as a safe alignment as the latter part from Bubakhal onwards runs atop the ridge or hugs it closely. Perhaps this model may be better suited for adoption to prevent loss of lives & livestock, property, livelihood, cultivated terraces, Government assets and obviate mobilizing resources of Armed & Para Military Forces, & scores of NGOs/Industrial Houses/citizens to come to the rescue of beleaguered pilgrims & locals. Relief material has been rushed at great cost & peril from distant parts of the country to Uttarkashi, Kedar Ghati, Urgam Valley, Badrinath, Narain Bagar & Darma Valley. Ponder over the cascading cost of each item till it finally reaches the beneficiary. Two large truck loads of relief material cost Rs 36000 for cartage from Rudraprayag to Guptkashi by 6 Utility Trucks! The Administration has to make a call on this. Do they want to have roads that will demand perpetual maintenance? Pragmatically, perhaps they do.
In conclusion, the administration ought to take heed to the plethora of wisdom that lies encapsulated in reams of paper – often repeated & reinforced by learned & highly experienced writers. The Himalayas are young, fragile, evolving, its rivers needing the space created as river beds & we need to respect that. In the recent Himalayan Tsunami it simply whispered, "Don't mess with me!" Anyone listening?
Author : Brig.R.S.Rawat was with the Garhwal Rifles and is presently associated with Uttarakhand Ex Servicemen League and settled in Dehradun.