They used their hands and minds, limited manual technology on death-wish edges and thresholds, their physical bodies, their willpower and compassion, and their trained, hardened skills to save tens of thousands of marooned pilgrims in the most remote terrain of the high Himalaya. The Indian Army, Indian Air Force pilots, and paramilitary forces like the ITBP jawans on the spot— they did it. Manual technology and skilful skills, because it was difficult to bring big, sophisticated machinery into this inhospitable terrain.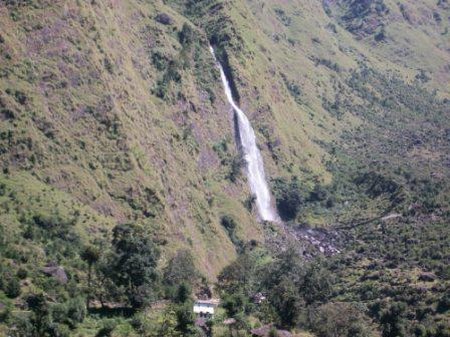 Birthe waterfall in Pithorogarh
Those who know the ecology of these young, vulnerable, geologically fragile mountain, know it too well, that, be it flash floods, sudden devastating rains, fierce cloudbursts, man-made landslides, or a potential seismic upheaval on this tectonic earthquake fault-line, these great mountains are not only a picture postcard commercial or religious tourist paradise, they can turn a virtual quagmire in an unprecedented eco-crisis.
Landslides in Mandakini Valley/Kedarghati
The Himalaya has a delicate history, as well as a future of apocalyptic breakdowns in the wake of nature's inevitable and predictable revenge. Indeed, as the cliché goes, if you take mindless revenge on nature, nature too will take revenge on you.
Madhu Ganga/Medhegaad Village Chai
While those flourishing in wealthy real estate, tourist, commercial, bureaucratic and political establishment, might not agree, all forms of mass, commercial tourism inflicts great damage on these ecologically fragile mountain and river systems. The tragedy and mass suffering, in that sense, could have been avoided, if the thousands of people, many of them old and accompanied by little children, some just two months old, had been aware of the unpredictable trajectory of these dicey pre-monsoon rains.
Himalayas from Lansdowne
Indeed, this vast suffering which attracted the nation's attention should move us to introspect. When it comes to the 'divine' trajectories of mythical 'Innova' and other pilgrimages, and other commercially viable 'luxury bus' touristy zones, it's not always a valley of flowers. God might have retreated in these high enclosures of dev bhumi, but human beings should rethink their encounters of the third kind in this sublime but anti-cathartic terrain.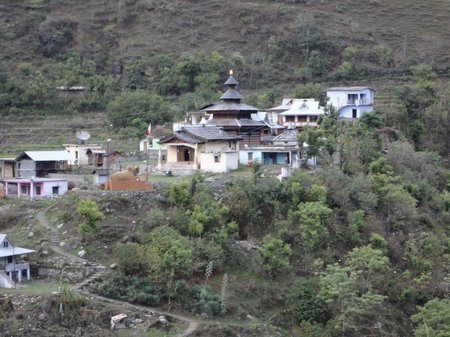 Temple in Tuni/Chakrata
Indeed, the army, paramilitary and Air Force lost many of its precious soldiers in saving the marooned. Many of the marooned too have gone through infinite tragedy. However, in a rational society, undoubtedly, this pilgrimage tourism unleashed should be given a hard rethink. However strong may be the vested commercial and tourist lobby, and the mythical salvation of the religious establishment.