On September 3, 2023, in Tehri Garhwal, Uttarakhand, the District Magistrate Mayur Dixit inaugurated a state-level kayaking and canoeing sports training camp by hoisting a green flag. This special 10-day camp, which runs from September 3 to September 12, 2023, is being organized under the guidance of the district administration at the Koti Colony Water Adventure Sports ITBP Center in New Tehri.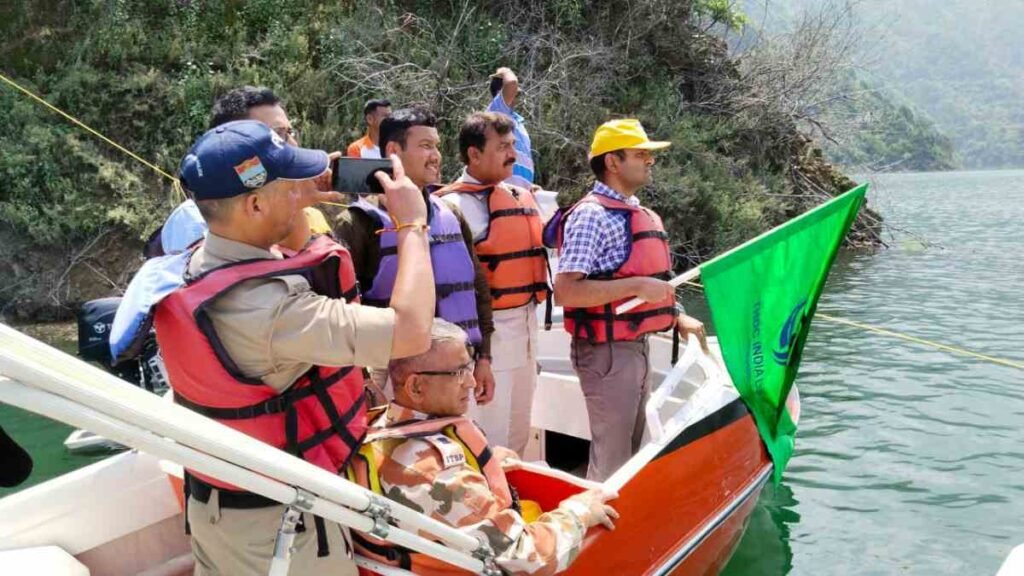 The opening ceremony was attended by Mayur Dixit, the District Magistrate, and D.K. Singh, the Secretary of the Uttarakhand Olympic Association, who jointly initiated the event.
The District Magistrate expressed that this event serves a dual purpose: it provides athletes with valuable training and competition experience at the state and national levels while also enhancing tourism opportunities in the district. He emphasized that the administration will extend full support to make this event successful.
D.K. Singh, the Secretary of the Uttarakhand Olympic Association, mentioned that this event is being made possible through the collaborative efforts of the Uttarakhand Sports Department, ITBP, T.H.D.C. Tehri Garhwal, and the Uttarakhand Kayaking and Canoeing Association.
Technical aspects of kayaking and canoeing were explained by I.T.B.P. Deputy Commandant Ashutosh Bisht during the event.
Sanjeev Pauri, the District Sports Officer, informed that 25 athletes and 2 coaches are participating in the training camp. Before this, selection trials were conducted on September 2, 2023, where 47 participants tried out for the camp.
The athletes who participate in this 10-day training camp will compete in the National Kayaking and Canoeing Championship scheduled to be held in New Tehri from September 14 to 17, 2023. The stage was managed by Jan Sampark T.H.D.C. Manager Manveer Negi.
This event was attended by various officials, including Atul Bhandari, the District Tourism Officer, T.H.D.C. Security Associate Om Prakash Bhatt, Jan Sampark T.H.D.C. R.D. Mamgain, Rajkiya Shikshak, Kamal Nayan Raturi from New Tehri Garhwal, Engineer T.H.D.C. Suresh Awar, Cricket Coach of Samrat Cricket Academy New Tehri Asad Alam, Softball Coach New Tehri Yajuvendra Chauhan, and other I.T.B.P. officers and employees.