The year 2012, began with meeting 97 years war veteran in January in Dehradun. It was my great pleasure and honour to meet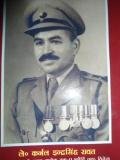 Colonel Inder Singh, now aged 97 years. In my first meeting, he talked about his life and other things and later gave me his autobiography. After reading his book, I had more questions to ask and met him again within a week or so. I had made a questionnaire, more open ended and told him that it will take some time to write and he did say that all this will come to a size of a book. With his age, I was interested that his son Brigadier R.S. Rawat, now retired, could do the writing work in a more leisurely fashion than to tax the colonel at this age. Plus there wont be any time constraints while talking and writing and any time of the day would be used to talk to the father and keep jotting in than or later, after getting his  comments and views on so many historical issues that may interest the coming generations.
A brief note on Colonel Inder Singh life. He was born in Bageli Village, Dhaijuli patti, presently comes under Thailsain block of Pauri Garhwal district. The interior area of Garhwal is also known as the Raath. After initial schooling in Kokali village school, he went to a middle school in Kirsu Boarding school , which was about 50 Km away from his village. He did his high school from Mission school at Pauri. He joined the Garhwal Rilfes as Soldier before the second world war and saw action in East Africa Against the Italian Forces. He was commissioned in early forties in Burma Infantry and after independence was posted with the Garhwal Rifles. In the fifties he was with Assam rifles and awarded Kirti Chakra for tacking insurgency in the north east. He commanded 4 Garhwal Rifles, know for its valour in the Indo Chinese war of 1962 in the Arunanchal sector. He was one of the pioneering commandants of an Indo Tibetan Border Police (ITBP) Battalion. Presently he is leading a retired life at Dehradun with his son and family.
Col Inder Singh wrote few pages on the questions set by me and the following are the replies. I have tried my besting in editing and translation to his hand written replies in English and Hindi.